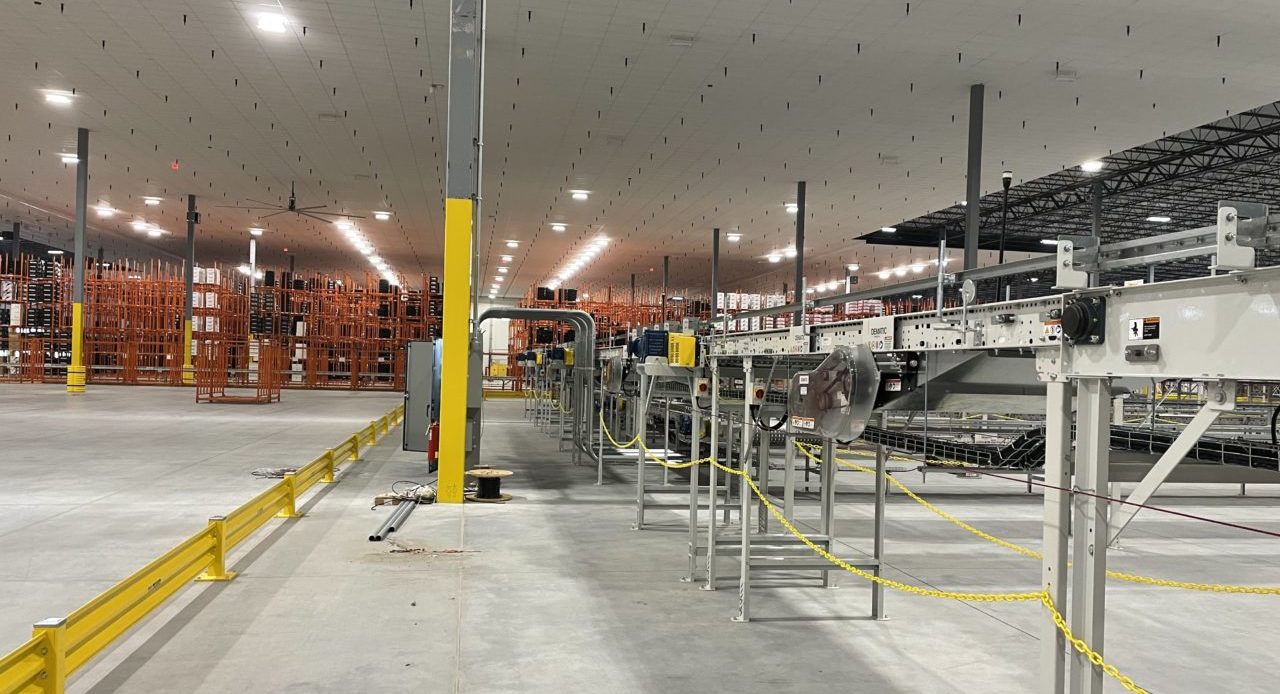 State-of-the-Art Conveyor System Install by AMF
Are you looking for a reliable and experienced electrical contractor to install a conveyor system in your business? Look no further than our team at Industrial Electrical Conveyor Installed. We have years of experience in installing conveyor systems for businesses of all sizes and can handle any project, big or small.
Project Overview: AMF Electrical Contractors recently undertook an ambitious project to design and install a cutting-edge conveyor system for a high-volume distribution center. 
Objective: The primary goal was to enhance the distribution center's throughput capabilities while maintaining a safe environment for workers. We aimed to implement a solution that would automate the transfer of goods, minimize manual handling, and optimize the storage space.
Execution: Our approach was systematic and phased, beginning with a thorough analysis of the center's layout and operational needs. We then proceeded to the meticulous installation of the conveyor components, including advanced belt systems and automated controls. The project demanded precision in the alignment and synchronization of various conveyor sections to ensure seamless movement of merchandise.
Features:
Custom-Designed Conveyor Layout: Tailored to the unique dimensions and requirements of the facility, maximizing space utilization.
Automated Sorting Systems: Capable of handling various product sizes and weights, with real-time tracking for inventory management.
Safety Implementations: Strategically placed guardrails, emergency stops, and clear floor markings to maintain a secure work environment.
Energy-Efficient Operations: Integration of power-saving features and smart systems to reduce the facility's carbon footprint.
Outcome: The completion of the project resulted in a transformative change for the distribution center. Efficiency metrics saw a significant rise with the reduction of manual sorting by an estimated 70%, leading to faster processing times and decreased labor costs. The automated system also contributed to a safer workplace with reduced risk of injury.
Future Scope: This project is not only a testament to AMF Electrical Contractors' capacity for innovation and technical expertise but also sets the stage for future expansions. The scalable design allows for additional sections to be added as the center grows, ensuring the investment evolves alongside the business.
AMF Electrical Contractors are proud to have delivered a conveyor system that is not just a part of the client's operations but a critical component of their success story. We continue to support our clients post-installation, providing top-notch maintenance and optimization services to keep operations running smoothly.
Our team is dedicated to providing quality workmanship and excellent customer service. We will work with you every step of the way to ensure that your new conveyor system meets your needs and exceeds your expectations. Contact us today to learn more about our services or request a quote!