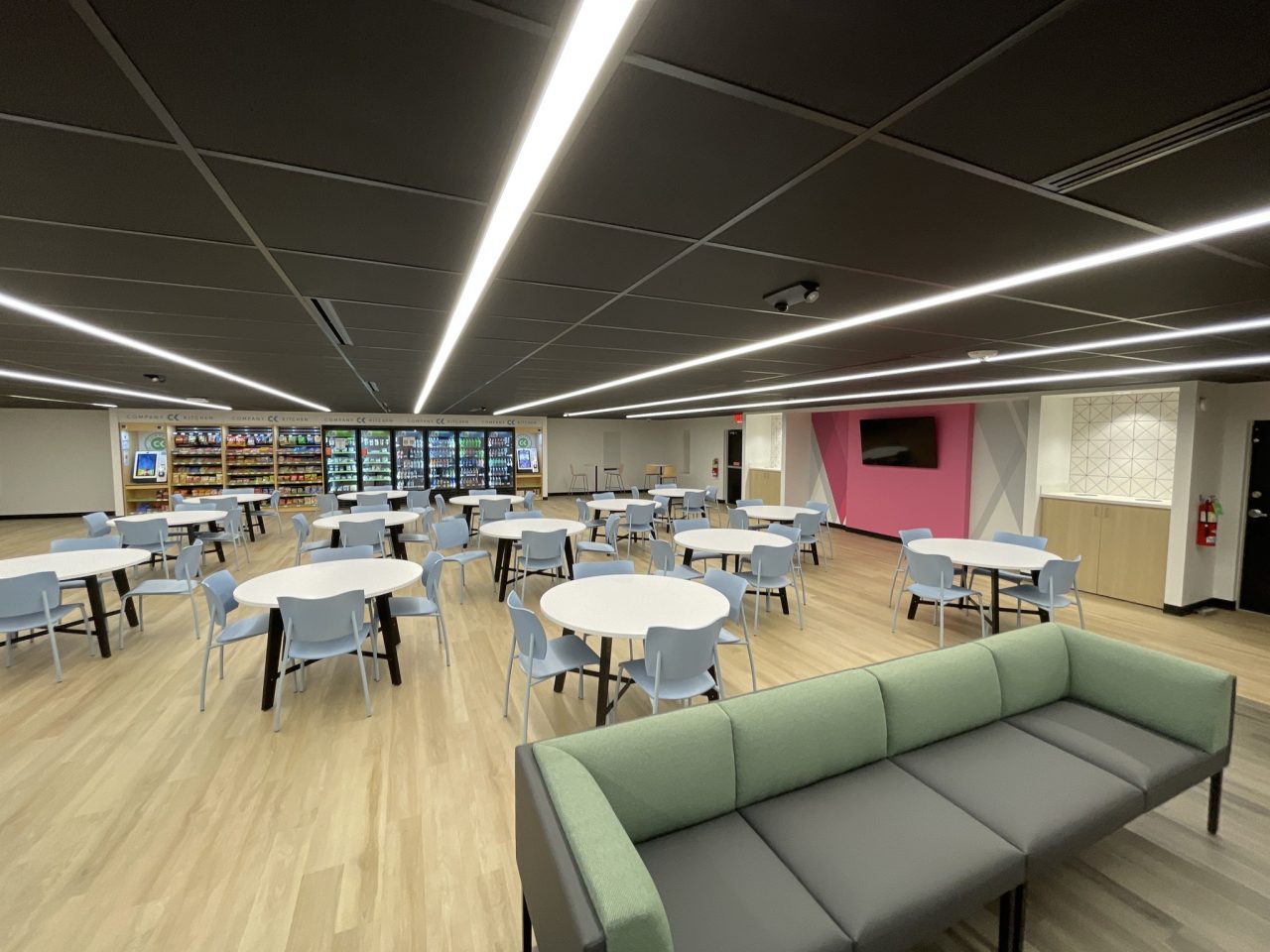 The Reckitt Contemporary Café Initiative
Cissell Mueller recently worked with Fox Architects to create a temporary, yet luxurious design-build cafe for Reckitt. The facility's changing needs required a solution that was both comfortable and cost-effective, so the team built the cafe from five trailer units on a CMU block foundation. Despite being a temporary structure, the cafe boasts high-end finishes and features, including linear lighting, a live green wall, and a seating area with a TV.
This cafe is a testament to the team's dedication to creating a beautiful, functional space for Reckitt's employees to enjoy.
Project : Cissell Mueller, in collaboration with the visionary team at Fox Architects, proudly presents the Reckitt Contemporary Café, a paragon of modular luxury and design ingenuity. Engineered to accommodate the evolving dynamics of Reckitt's operational landscape, this temporary café transcends conventional expectations, delivering an oasis of comfort and style.
Design Philosophy: Tasked with the dual objectives of cost-efficiency and aesthetic excellence, our teams conceptualized a café space born from the union of five modular trailer units, all resting upon a robust CMU block foundation. This innovative approach ensured swift assembly without compromising on the structural integrity or design appeal.
Aesthetic and Functional Highlights:
Linear Lighting: Cutting-edge LED fixtures form the backbone of the café's illumination, casting a warm, inviting glow while accentuating the linear geometry of the space.
Live Green Wall: A verdant tapestry of foliage, this feature wall breathes life into the café, symbolizing sustainability and infusing the area with natural serenity.
Entertainment Lounge: A plush seating ensemble, positioned for optimal viewing of a state-of-the-art television display, creates a versatile hub for relaxation and casual congregation.
High-End Finishes: Every surface echoes the commitment to luxury, with materials and textures chosen to evoke an enduring sense of quality.
The successful completion of this project stands as a tribute to the collective expertise and coordinated efforts of our subcontractor teams. All were seamlessly orchestrated by an adept project manager and a vigilant superintendent, whose combined leadership and oversight were instrumental in crafting not just a structure, but a harmonious blend of form and function.
Enduring Impression: The Reckitt Contemporary Café stands as a testament to the team's unwavering commitment to forging spaces that not only meet the immediate needs but also enrich the day-to-day experiences of Reckitt's valued personnel.
Our team is dedicated to providing quality workmanship and excellent customer service. We will work with you every step of the way to ensure that new lighting and decor exceeds your commercial expectations. Contact us today to learn more about our services or request a quote!